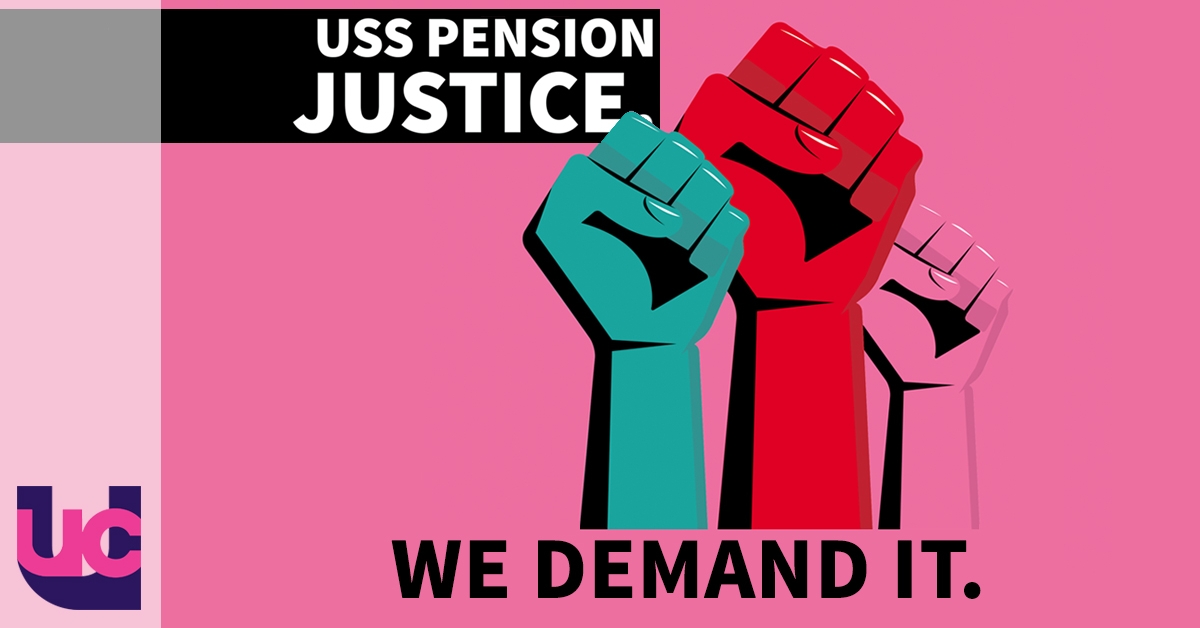 Key Questions About the Strike
1. What action is UCU taking?
Members voted in overwhelming numbers for both strike action and action short of a strike.
2. Which institutions are affected and when will the action take place?
A list of the institutions included in the call to action is here.
Strike action will take place on:
week one – Thursday 22 and Friday 23 February (two days)
week two – Monday 26, Tuesday 27 and Wednesday 28 February (three days)
week three – Monday 5, Tuesday 6, Wednesday 7 and Thursday 8 March (four days)
week four – Monday 12, Tuesday 13, Wednesday 14, Thursday 15 and Friday 16 March (five days)
Except in King's College London, Queen Mary University of London, University of Edinburgh and the University of Stirling who will start their action in week two on Monday 26 February and then take strike action for a further two days on Monday 19 and Tuesday 20 March:
week two – Monday 26, Tuesday 27 and Wednesday 28 February (three days)
week three – Monday 5, Tuesday 6, Wednesday 7 and Thursday 8 March (four days)
week four – Monday 12, Tuesday 13, Wednesday 14, Thursday 15 and Friday 16 March (five days)
week five – Monday 19 and Tuesday 20 March (two days)
The branches which were reballoted and voted for action – Ruskin College, University of Bradford and St George's, University of London – as well as the Institute of Development Studies, will join the action on Tuesday 6 March in week three and then take strike action for a further two days on Monday 19 and Tuesday 20 March:
week three – Tuesday 6, Wednesday 7 and Thursday 8 March (three days)
week four – Monday 12, Tuesday 13, Wednesday 14, Thursday 15 and Friday 16 March (five days)
week five – Monday 19 and Tuesday 20 March (two days)
Action short of a strike will begin on the same day as strike action (eg for most institutions on 22 February but for King's College London, Queen Mary University of London, University of Edinburgh and the University of Stirling on 26 February, and for Ruskin College, University of Bradford, St George's, University of London and the Institute of Development Studies from 6 March.
3. What does taking strike action mean?
Strike action means not doing any work at all for the whole of the days specified by the union. This includes time before 9am and after 5pm and includes any activity which is part of your work such as teaching, administration, meetings, emails relating to work, marking, research or conferences where you are directly or indirectly representing your employer. Don't do any work!
4. What does action short of a strike mean?
While a strike is a concerted stoppage of work, action short of a strike is normally action which affects only certain aspects of your work.
Action short of a strike in this dispute means we are asking you to do the following:
work to contract;
not cover for absent colleagues;
not reschedule lectures or classes cancelled due to strike action;
not undertake any voluntary activities
Action short of a strike begins at the same time as the strike action and continues until the union calls it off.
5. What does working to contract mean?
Working to contract means abiding strictly by the terms of your contract of employment such as where they or other formal documents relating to your employment specify your hours of work; breaks; workload; or other matters.
6. What does refusing to provide cover for absent colleagues mean?
This means that unless your job is wholly or predominantly about covering for other staff, you should refuse to provide cover. An example of this might be where a colleague is unwell and you are asked to take on their teaching or other work.
7. What does refusing to reschedule lectures or classes cancelled due to strike action mean?
This includes any scheduled teaching activity which would have taken place on one of UCU's strike days and applies to all UCU members not just those directly responsible for the relevant lecture or class. You should refuse to reschedule this activity when asked stating in response that you are supporting UCU's action short of a strike. You should also not share materials that would have been covered in a lecture or class cancelled due to the strike.
8. What should I do if I have already rescheduled strike hit classes or if someone else such as my head of department has already rescheduled them?
Once the action has started you should not teach rescheduled classes whoever has rescheduled them.
9. What does refusing to undertake any voluntary activity mean?
Not undertaking any voluntary activity means that where you have a choice as to whether you undertake some work, you should not do it. Contracts differ but, for example, weekend working is voluntary for some staff. In some departments, certain roles are also voluntary.
If you are in any doubt about what you are required to do under your contract, check your contractual documents which may include your offer letter, statement of main terms and conditions and any staff handbook and talk to your UCU representative.
10. Does participating in action short of a strike mean I can do what I like?
Taking action short of a strike does not mean that you can refuse a reasonable request from your employer to undertake something, except those matters (working to contract, not covering absent colleagues, not rescheduling classes lost to the strikes, and not undertaking voluntary duties) which are specified parts of the action. How reasonable any request is will depend on the terms of your contract and custom and practice. If in doubt or if your actions are challenged by someone senior to you, temporarily suspend your action and contact your branch who will seek further advice.
11. When will the action be called off?
UCU has called the action because of the employers' failure to reach an agreement with us to protect pensions. We would prefer a negotiated solution to having to take industrial action. However, while the employers' current proposal to end the guaranteed USS pension would mean a loss of around £10,000 a year in retirement, they are not currently prepared to enter meaningful negotiations. UCU believes that only sustained, disruptive action will bring the employers back to the table. The action is kept under review at all times by the Higher Education Committee.
12. Do I have to tell my employer I am going on strike or taking action short of a strike before the action begins?
No. You do not have to tell your employer whether you plan to take industrial action in advance of the date when action begins as this will enable them to minimise any disruption the action is aimed to cause. UCU has already provided your employer with all the information about the action required by law including those categories of members who we are calling on to take action.
13. When is it ok to tell my employer I am taking industrial action?
Once the action has begun you should respond truthfully to any query from your employer as to whether you have taken or are taking industrial action. You should not, however, respond to any such query while you are on strike.
14. Are there any exemptions from having to take industrial action?
No. All UCU members employed at the institutions affected are asked to take action.
15. Should I reschedule lectures or classes that are cancelled due to the strikes?
No. This is part of the action short of a strike that members voted to undertake. Rescheduling classes will dilute the impact of the original strike action.
16. Will the union be paying strike pay?
Yes. The union has agreed to provide strike pay based on up to £50 per day after the first three days' strikes undertaken. Priority will be given to those on insecure contracts, low earnings or with special circumstances.

More details are available here [122kb]
17. I am an hourly paid lecturer who is paid for their teaching, preparation and marking in one payment – how will the strike fund help me?
The union will pay appropriate strike pay for each strike day upon which you would have worked based on your normal working patterns, as ratified by your branch.
18. I have external commitments at another institution not affected by the dispute on a strike day – should I fulfil them?
If the external commitments arise from your employment then you should not fulfil them.
19. I am a USS member at a non-striking institution. What can I do to support my colleagues?
You can donate to the UCU fighting fund to provide direct support to striking members here.
20. What can I tell my students about the strike?
You can tell them that NUS is fully supporting UCU. We have produced a video for you to share with your students and a

letter to students which you can download and hand out [147kb].
21. I am not a member of UCU, if I join can I then take part in the action?
Yes, if you join UCU you will be able to participate in the action as soon as you are signed up. Please do not join the action until you have joined UCU.
22. Am I in breach of my contract if I go on strike?
Yes, all industrial action is a potential breach of contract. However, UCU has carried out a legal ballot and the action has been formally called, the law protects workers from dismissal whilst taking part in lawful industrial action or at any time within 12 weeks of the start of the action and, depending on the circumstances, dismissal may also be unfair if it takes place later. This kind of dismissal has never happened in higher education.
23. Can my employer deduct my pay when I take part in industrial action?
Yes, your employer is entitled to deduct your pay if you participate in industrial action. For strike action, the union contends that any deduction should be at 1/365th of any annual salary or equivalent. For part-time staff or those employed on a session by session basis, deductions should only reflect the pay normally due for the work not undertaken and no more.
For action short of a strike, your employer has the right to refuse to accept the partial performance of your contract and to deduct up to 100% of your annual pay while you are participating in the action. In recent years, most employers have not deducted salary in respect of action short of a strike.
24. How will taking strike action affect my pension?
In previous strikes it has been the experience of UCU that most employers do not withhold superannuation contributions and therefore participation in strike action has not generally affected pensions. Also, institutions that do choose to withhold contributions often make provision for members to make up pension and AVC deficits from their pay. In terms of your final pension, the impact of participating in the industrial action called by UCU is minute compared to the annual loss which members face if the employers' proposals are imposed. For example, a member earning £50,000 and supporting all fourteen days strike action would see a reduction of less than £200 in their annual pension as a direct result of the strikes. This compares to a loss of £10,000 a year from the employers' proposals for the typical UCU member.
25. My employer has told me that I will lose core pensions rights such as death in service if I take part in strike action, is this true?
From time to time, individual employers seek to bully staff by saying that if they should die while taking strike action they will not receive a death in service payment. We understand that USS are not aware of any such case. You should notify UCU if you are threatened in this way and our local branch will take the issue up on your behalf.
26. What is the law on picketing?
Peaceful picketing is allowed and members are encouraged to get involved. Picketing should be carried out at or near an entrance or exit from a site at which the pickets work. When others who are not in dispute come into work or use these entrances or exits, pickets must not interfere with them.

UCU's picketing guidance is here [184kb].
27. I am not a UCU member. Can I refuse to cross the picket line?
We would like everyone to respect the picket lines and not go into work, but it is important you are aware that if you are not a UCU member we will not be able to support you if the institution decides to take disciplinary action against you.
28. I am a Research Fellow fully funded by external bodies but I don't want to cross the picket line. What do I do?
It depends upon who your contract is with. If it is with your home institution (e.g. a university) you should join the strike. If your contract is with a body who is not part of the dispute you should not take action.
29. Will participating in strike action affect my entitlement to statutory maternity pay (SMP)?
You are entitled to SMP (subject to fulfilling the other statutory requirements) if you have been continuously employed for 26 weeks ending with the week immediately preceding the 14th week before the expected week of confinement (EWC). The calculation of continuous employment does not, however, include any week during which you participate in strike action. So, if you take strike action and have worked for your employer for less than 26 weeks up to and including the 15th week before your EWC you will lose your right to SMP. If you are in this situation, please advise your branch officers immediately. Or put another way, a woman needs 26 weeks of continuous service going into the qualifying week (15 weeks before the EWC), but a week in which she is on strike does not count (though it does not break continuous service). So the woman needs an extra week's service before the 15th week (assuming the strike does not affect more than one week of service, otherwise she will need more service to compensate). It will usually only affect recent employees, because if a woman has, for example, two years of service the issue would only arise if her service is broken for some other reason. There is further explanation and useful diagram on the Department for Work and Pensions website.
30. I am a UCU member in a non-striking institution and I have scheduled business at a striking institution, can I be dismissed if I do not cross a picket?
The position of UCU members who decide not to cross the picket line is that while it is possible you could be disciplined or dismissed these are very rare occurrences and the dismissal may, in certain circumstances, be deemed to be an automatically unfair dismissal. UCU will support members who refuse to cross official picket lines.
31. I will be working outside the UK during the strike – what should I do?
While the legal position varies, UCU's advice is that if you are working outside the UK on a strike day you should work normally and donate to the strike fund. If you are due to travel as part of your work on a strike day you should not do so.
32. I am working on a visa – does this affect my right to strike?
It is not easy to issue general advice given the nature of the law. However, UCU is not aware of any individual case where participating in lawful industrial action has had an impact upon a member's visa status. For staff employed under a Tier 2 visa, you should be aware that your sponsor is required to report unauthorised absence (such as strike action) if it continues for more than 10 consecutive days. This does not mean your visa will be revoked, just that your sponsor must inform the appropriate government department. UCU has called fourteen days strike action including two sets of five consecutive working days, but the action does not require you to be absent from work for ten consecutive days or more. However, giving general advice is not straightforward since Tier 2 sponsored staff also cannot be absent from work without pay for more than four working weeks (other than due to maternity, paternity, shared parental leave or long term sickness) in total in any one year from 1 January until 31 December. If you have already taken a period of unpaid leave for other reasons you will need to consider your own position as to whether your participation in industrial action may take you over the permitted threshold. Members with Tier 4 status, typically students, have the same legal right to take industrial action as resident workers – e.g. do long as are eligible employees. The sponsor, is however required to report unauthorised absences of more than 10 consecutive working days to the Home Office. The Home Office considers industrial or strike action as an unauthorised absence. So if you take industrial action for more than 10 consecutive days, or if you miss 10 or more 'expected contacts' without permission, your sponsor must report this to the Home Office, and your sponsorship will be revoked. Your sponsor is required to keep a record of all unauthorised absences, so they will need to be notified once it is confirmed that you have undertaken strike action. UCU is committed to supporting all our members in this industrial action so if you are worried about the impact of the strikes upon your status, contact Matt Waddup for further advice and guidance.
Last updated: 26 February 2018